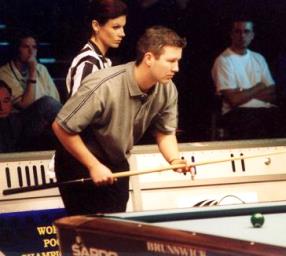 Johl Younger
Professional
NSW
Johl started playing pool as a young child, and at age 12, he was a star Aussie rules footballer, and junior Motorcross champion. He was forced to choose between his three favorite sports at a young age, and his love of pool took over as his number one interest. So he embarked on a professional cue-sport career. Johl became Australian junior 8-ball, 9-ball and Snooker Champion a few years later. He then went on to become a professional Snooker player for 7 years. Johl later turned his hand at 9-ball and he became the best Australian player, winning the Australian 8-ball and 9-ball champs. Later in Australia, he earned a spot in the World 9-ball in Cardiff, Wales and was and was narrowly defeated, by a 13-11 score line. Johl developed a growing frustration with cue-sports in general, with the prize money that was constantly decreasing in the UK. With Snooker also loosing major sponsors, Johl was forced to quit playing professional cue-sports. He now co-owns two different highly successful businesses in Surfer's Paradise, Australia, the tourist capital of Australia. After hearing of the exciting new International Pool Tour, he could not wait to get back into the game, and Johl is counting the days to set foot in Las Vegas to take on the best players in the world!
–
A true world class performer. This guy just oozes talent. If Johl took this game seriously, he would be a seriously tough player to beat and would certainly cause many headaches at a world championships.
Even with half a preperation, Johl is playing to win and he will be someone most will be looking to avoid.
I have him at a $6.50 second favourite to win. No suprises if he ends up with the cash!