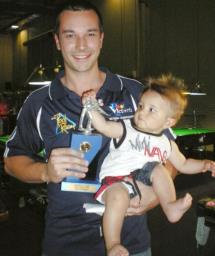 Ron Kelly
– WA
Professional
* 2000 – WA Singles Champion
* 2001 – Player of Carnival (Nationals), Australian Team.
* 2002 – WA Singles Champion
* 2002 – Aus Doubles Champion (Alan Brown)
* 2002 – Last 16 World Singles
* 2003 – Aus Singles Champion
* 2003 – Strachan Cup Pro-Am Winner (def Gareth Potts 11-9)
* 2003 – Australian Team Selection
* 2004 – Member of World Cup Champion Team
* 2004 – World Cup Player of the Series (topped averages)
* 2004 – Aust Titles (topped averages), Aust Team Selection
* 2006 – WA Singles Champion
* 2007 – WA Singles Champion
* 2009 – Australian team selection (Vice Captain)
Almost back to his best after a few years off from national competition.
–
–
Big Guns Comment:
Now this guy CAN PLAY!!!
Before his self imposed spell from the game, Ron Kelly was establishing himself as the Australia's top player and nobody could stop him.
He now finds himself in the position of re-proving himself. But, for the people in 'the know', that is not required, as we all know, Ronny could split this field in half if he finds his old form. A very entertaining player to watch… a big gun from the west looking to take home some big cash!!
At the single figure odds of $9.00, we believe Ronny will be still flying the flag well into the Sunday!