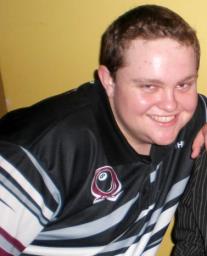 Justin Thursby
 – QLD
Professional
2007 U/21 AUS 8Ball Champion
2007 QLD 8Ball Singles Runner Up
2006 U/21 QLD Champion
2005 AUS 8Ball Quarterfinalist
2005 U/21 QLD Champion
2005 U/21 AUS 8Ball Runner Up
2004 QLD Champion
2003 U/18 AUS 8Ball Champion
2002/03/04 U/18 QLD Champion
2001 U/15 QLD 8Ball Champion
–
–
Big Guns Comment:
Don't let the smile fool you… this baby faced assassin is ruthless!
Althouth not considered one of the finest potters in the field, Justin's unorthadox game makes opponents uncomfortable and his ability to win games from knowhere is uncanny.
If Justin settles early, he will be difficult to remove.
However, Big Guns believes becasue he is untested over this distance against this quality field, Justin may struggle in latter rounds. At $17 to win, he may be value.