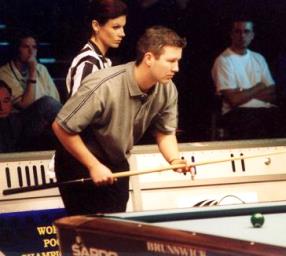 2011 Big Guns Champion – Johl Younger
Joel Younger – (Geelong) Victoria 
Status:  Professional
Strength:  Where do I begin?
Weakness:  I have no idea.
Favourite Player: Travis Crawley
Big Guns Comment:
Joel returns to have another go at the Big Guns title after a terribly unlucky 3rd place last year.
Along with Ronnie & Ben, Joel produced some of the most memorable shots and brilliant clearances that most of
the people in attendance had seen for a long time.
Joel is easily able to win this title. One assumes that he has put in some extra table time in the lead up to this
years event. If you want to see a world class player in full flight, come down to Princes and watch this guy.
He is my tip to win the event his year. I cannot go past him. With practice, I cant see anybody beating him.
Whoever beats Joel (if any), will win this event.
Bookies do not want to lay a bet on Joel… He is a better chance to win this than Sepoy is to win the Golden Slipper!!! 🙂